Undoubtedly, Architectural mesh is an amazingly versatile material which lends itself to a whole range of application. Different types of mesh, surface textures, and lighting make it possible to alter the aspect of the material so that depending on the angle of viewing the selected meshes can alter from translucent to opaque in an instant
CATEGORY
Base on the production process, Architectural Mesh or Wire Mesh can be categorized as Cable Mesh, Rigid mesh/PC mesh (pre-crimped), and Spiral Mesh
Cable mesh is the most versatile stainless steel mesh for the Architectural field. It is made of stainless steel ribbon wires (warp wire), which are interwoven with round stainless steel wires (weft wire).
With mesh elements up to 30m long and up to 8m wide, large façade and wall cladding installations can be achieved. Depending on the function, security, transparency, wind and sun protection requirements can be met.
*This material is usually used for Interior Design
Rigid mesh/PC mesh (pre-crimped)
PC meshes are produced in stainless steel and aluminium. The designation PC comes from the term "pre-crimped". These metal meshes are made of monofilament wires in both directions. At least one wire direction is crimped.
Many PC meshes are stocked in standard dimensions of 3 x 1 m and 2.5 x 1.25 m. Due to their panel-like appearance, rigid meshes are ideally suited to ceilings or paneling between balustrades, depending on the material.

*This material is usually used for Architecture Design
Spiral meshes are available in stainless steel and aluminum. The metal meshes are produced from flat ribbon spirals, which are connected to a straight or crimped round rod

*This material is usually used for Interior Design, especially for creating a special effect
Please do not note that: All spiral meshes are produced to order and are therefore not kept in stock.
APPLICATIONS
Architectural wire mesh can be used for many purposes, from Exterior (Façade, Transparent media façade), to Interior (Acoustic and design ceilings, Wall cladding, Room dividers) and Safety system (Roller shutters, Railings, Balustrades). Applying wire mesh to a building can create boundaries without experiencing the feeling of limits. On the other hand, it is also a very durable type of decoration which can also add extra safety around the building and can function as a second layer fence. Architectural wire mesh is very durable, strong, and stable just like all the other woven wire meshes, once applied it can last for decades. Below are some prominent examples: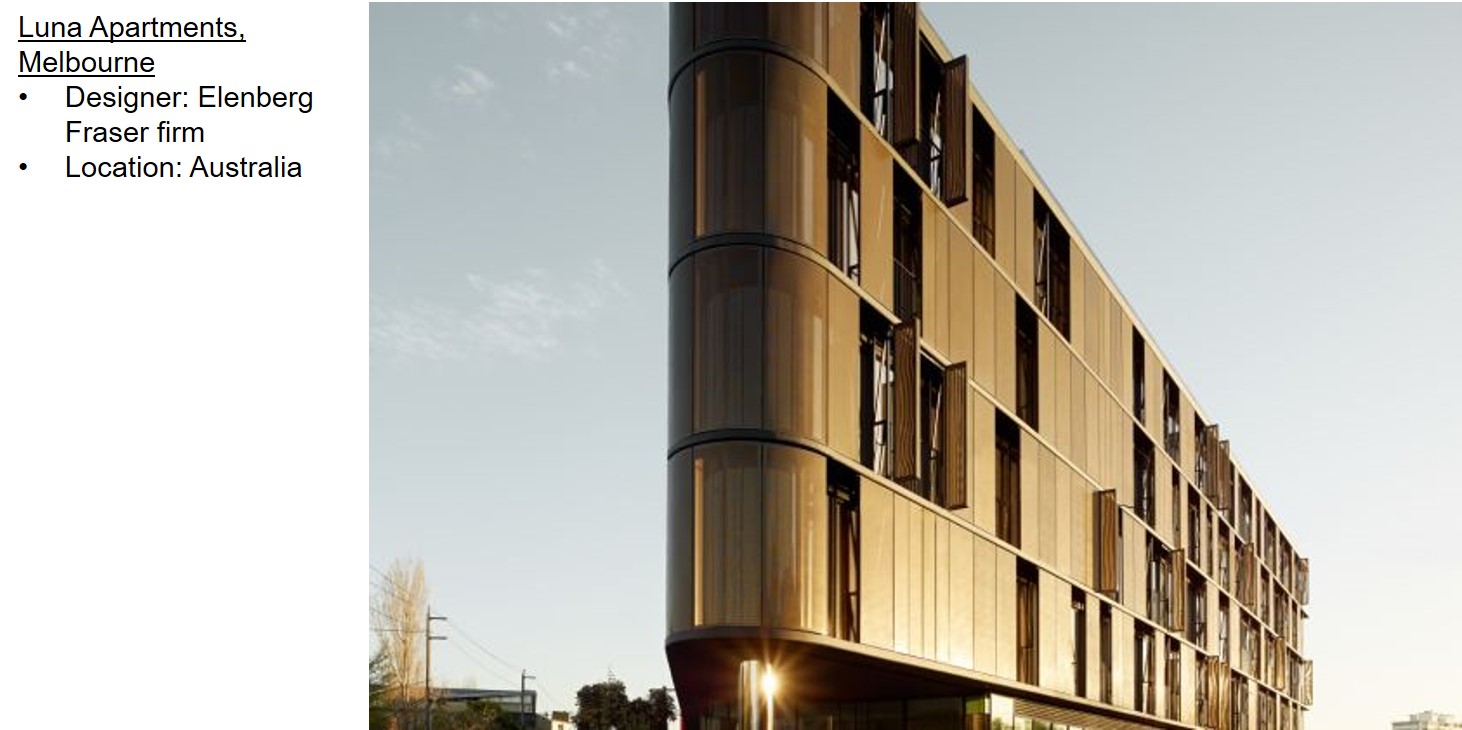 Click here to download the full presentation